I don't own one (yet), but I do have a fascination with velomobiles and mention them here at BicycleDesign from time to time. They are certainly not as common in the United States as they are in parts of Europe, but I think that is changing…slowly. If internet activity is any indication, they seem to be rapidly increasing in popularity because I have been noticing them everywhere on the web lately. I started a list of a few velomobile related links to share a couple weeks ago, and it has been growing longer each day. At this point, I think it is too much for a single post, so here we go with the first in a two part series.

If (like me) your knowledge of velomobiles isn't what it should be, don't worry. Mads Phikamphon, of the Danish site Cykelvalg.dk, recently shared an infographic they created to illustrate some of the most popular velomobiles that are currently available. He writes:

"Velomobiles might never really have caught on amongst most people, but there are still a lot models available if you want a bicycle that is far more effective than a normal bike (you use less energy in a velomobile because of the lowered air resistance).

Depending on your needs, you can get velomobiles with room for 2 persons, wooden velomobiles and super fast velomobiles that weight almost nothing."

You can see a portion of the infographic below, but be sure to visit Cykelvalg.dk to see it in its entirety.





People aren't just buying velomobiles though. Mads points out a great Instructable for building your own. The Facet V1 Velomobile (seen below) was designed and built by Jeff Schmidt using Coroplast, a material that is relatively inexpensive, lightweight, and fairly durable. He created the shell around a Catrike Expedition recumbent, and now has a one of a kind human powered vehicle that seems to perform pretty well based on the videos he shared.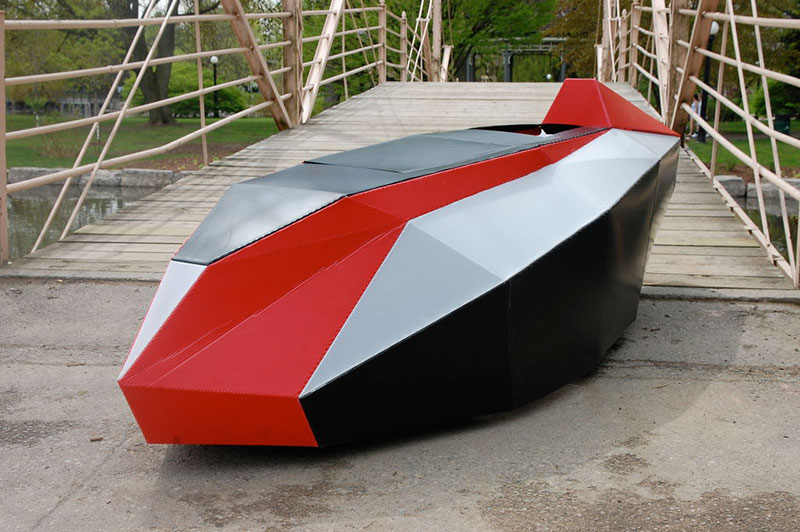 Nico van Baar also designs and creates homebuilt velomobiles, but instead of Coroplast he builds with bent wooden slats (similar construction you might see on a classic wooden boat). The beautiful wooden dual drive two seater seen below is also a solar powered pedelec, so it is capable of accelerating to speeds over 40 kph with two riders inside. See this post at Velomobiel.nl for additional pictures of this project, along with another one of his creations… a wooden Quest clone.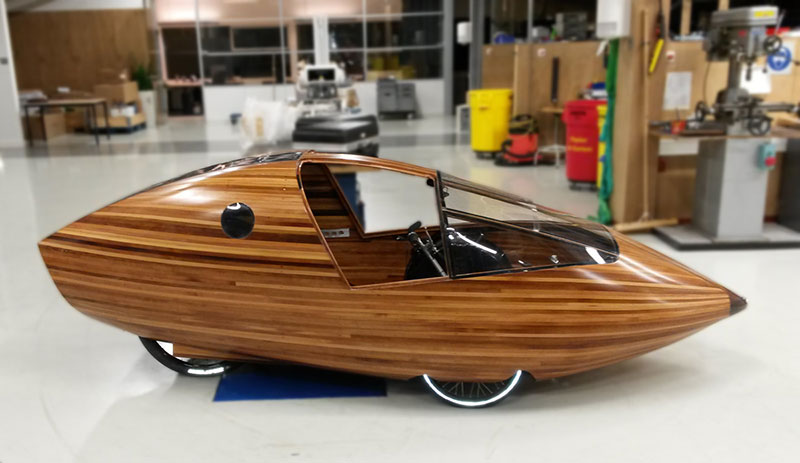 I have shared Christophe Sarrazin's velomobile designs on this site a few times. His old Pixelman blog doesn't seem to be around anymore, but you can still find his latest work on the web. He now maintains the Velomobile Design page on Facebook, where he shares his designs… along with a few others.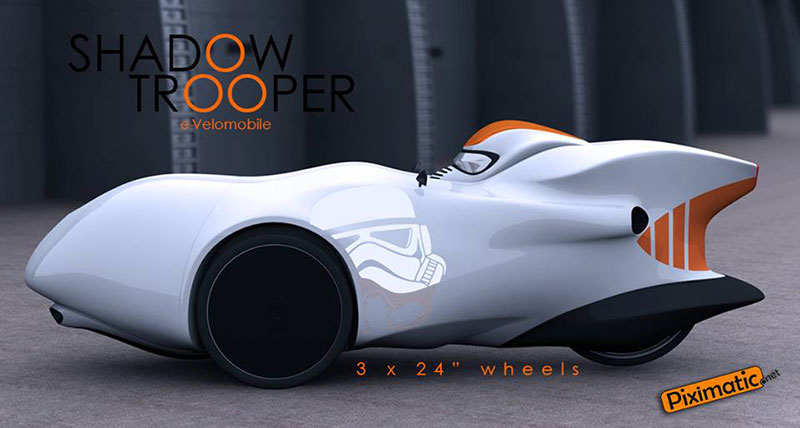 Finally (for this post at least), I'll mention a rather nontraditional velomobile from the The Future People, the husband and wife design team of Cameron and Rachael Van Dyke. They were the designers behind the Firefly concept, a backlit velomobile that was also featured in that 2013 post I just shared. With the CYCLONE concept though, they chose to eschew the aerodynamic shell and create "a human-powered luxury vehicle" with an interior that featurebrushed aluminum, leather, and mahogany. The CYCLONE is a two person vehicle that is powered by both riders, and it also has space to carry cargo. The Future people took their Model T inspired CYCLONE, as well as the electric assist aluminum and polycarbonate ZEPPELIN, to the Detroit Auto Show last month, and apparently generated a lot of buzz… enough for Fast Company to write, The Most Interesting Car At The Detroit Auto Show Is Actually A Bike. So whether you call them velomobiles, HPVs, or even human powered cars, it is great to see pedal powered machines stealing the show in Detroit. Let's hope that is a trend that will continue.